National Periodic & Specialist Cleaning Provider
Specialist Commercial Cleaning
Periodic Cleaning Solutions is recognised as the UK's No1 Periodic & Specialist Cleaning provider. Our specialist teams carry out, but are not limited to, Carpet and Upholstery Cleaning, Hard Floor Cleaning, Window Cleaning, IT Cleaning, High Level Cleaning, Cladding & External Cleaning, Jet Washing & Graffiti Removal, Kitchen Deep Cleans, Washroom Hygiene Cleans and a range of other Specialist Services.
Our Emergency Reactive Cleaning Service includes clean-up of any hazardous environments such as vacant properties or public spaces where drug paraphernalia and bodily fluids could be present, the safe removal of biohazardous fluids, blood or body spillages, clean-up of flood and sewage damaged properties and offices, and may include bespoke specialist Cleaning Projects.
Homeless Community Clean Up,
Clean Up of Drug paraphernalia,
Vacant Industrial, Commercial and Residential Void Cleaning
Body Fluids Cleaning
Office Floods, Soil Pipe Blockage/Damage Cleans
Washrooms, Toilets and Welfare Clear Up
Floods and Plant Room Cleaning
Bird Guano Removal
Animal Carcass and Scat Clear Up
Fly Tipping Clearance
Soft Strip/ Building Contents Removal
NEW! Extraction & Ductwork Cleaning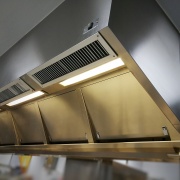 TR19 Extraction Cleaning - We can assist in delivering all areas of BESA TR19 ductwork compliance to your commercial kitchen extraction system. 
Ductwork Cleaning - Our specialist teams can maintain and clean all supply, extract and recirculatory ventilation systems and ductwork. 
Deposit Thickness Testing - This will help determine when and how frequently cleaning is likely to be required in order to keep your ventilation working efficiently. 
Air Testing - Our testing services are appropriate for public, commercial and industrial settings. 
Fire Damper Testing - By law, as stated in BS: 9999 2017, fire dampers must be tested every 12 months. We can provide a quote to inspect, test and clean your fire dampers. 
CONTACT OUR NATIONAL HELPDESK TO BOOK A SURVEY

Unique Support Services
Unique Support Services delivers our full range of Specialist Cleaning and FM Support Services nationally, and works within London in recognition that certain clients within the Capital expect a London-oriented service delivery model. 
Working within an agreed supplier partnership we will manage the entire process from Initial site visit and quote through to satisfactory delivery at point of service. Our dedicated NAtional Helpdesk will manage relevant Schedules, RAMS, Contacts and Costs then when due issue Access Requests containing Operatives Names, Vehicle Registrations, Working Times and Job Descriptions, allowing you to concentrate on your Core Business.